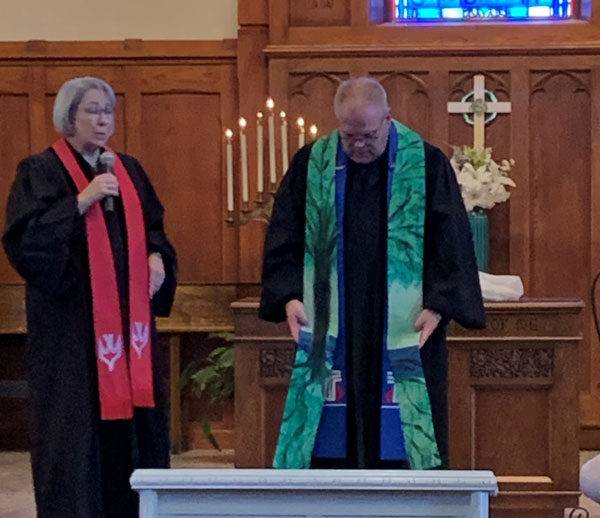 On Sunday, February 19, 2023 we had the great honor of hosting a service of worship for Winnebago Presbytery at which Ken Sann was ordained to the Ministry of Word and Sacrament. His journey up to this point took many years, so the celebration was that much sweeter! Special thanks to all who assisted that afternoon in the worship service and in the beautiful reception following. A ministerial robe worn by the late Ted Sperduto was presented to Ken, and our church gave him a lovely green stole featuring the tree of life and streams of living water.
Ken has been called to serve part-time at two small churches in the northern region of our presbytery, Presbyterian churches in Wausaukee and Athelstane. (He has been preaching in these same churches for more than a year, but now he officially becomes their pastor.) He will be installed to this position at each church later this month, and invites us to attend these installation services as we are able. The installation at Wausaukee will be on Sunday, March 12 at 3:00 pm and at Athelstane on Sunday, March 26 at 3:00 pm. Each service will be followed by a celebration meal.
Please join our sisters and brothers in the faith as we continue this celebration of the Spirit in the life of Ken Sann.