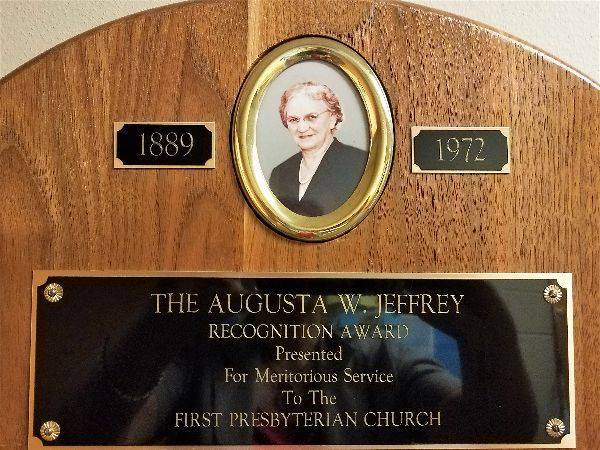 The family of Augusta Jeffrey has presented First Presbyterian Church with a fund from which a recognition award is to be presented each year to a member for outstanding volunteer efforts within the Church and through its programs. Nominees are reviewed by a committee appointed by the Board of Deacons, and an award winner selected by a consensus, according to the information provided on the nomination form. Church members may nominate more than one person.
Areas of service may include but are not limited to: mission, worship, member care, Christian education, administration, and evangelism. Each year, the winner of the Augusta Jeffrey Memorial Award will designate an honor gift to the area of ministry in which the Church is engaged that they deem most worthy. A list of possible recipients of this memorial fund is provided to winners to choose from, but choices are not limited to the list.
The 2021 Augusta Jeffrey Awardees are a dynamic duo — Amy Wittman and Lisa Olson — both long time members of First Presbyterian Church and serving in many capacities over the years.
These two kept us all connected during this past very unusual and difficult year of Covid by sharing their talents and knowledge of technology and social media. This technology allowed us to conduct the church business of the pastoral search process, monthly session and deacon meetings and ordination and installation of new elders and deacons. With their help the congregation was able to engage on a regular basis with worship services, Bible studies and fellowship.
Other supporting achievements include Elders, Pastor Nominating Committee, Transition Team, Sunday School Teacher, Accompanist for Intergenerational Choir and Christmas Pageants, Chair of Worship Committee, Chair of Christian Education, Building and Grounds Committee and Sound System.
Congratulations and a big Thank You to Amy Wittman and Lisa Olson!
They will designate the award funds of $600 for technology upgrades to keep us connected and moving forward.
Past recipients of the Augusta Jeffrey Recognition Award:
2021 – Amy Wittman & Lisa Olson
2020 – Jane Bies
2019 – Kirke & Beth Ryder
2018 – Katheen Ford
2017 – Ann Argall
2016 – Bobbi Holl