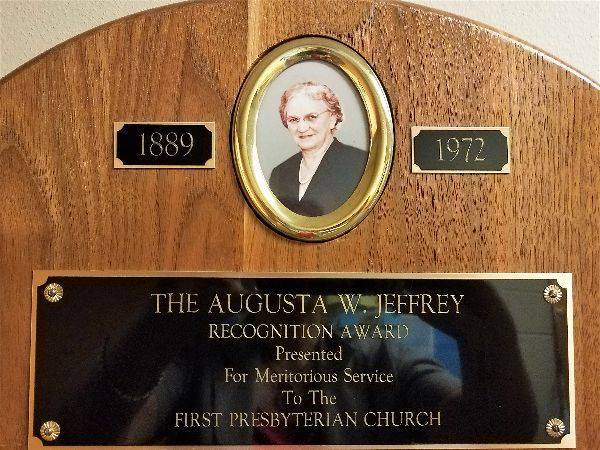 The family of Augusta Jeffrey has presented First Presbyterian Church with a fund from which a recognition award is to be presented each year to a member for outstanding volunteer efforts within the Church and through its programs. Nominees are reviewed by a committee appointed by the Board of Deacons, and an award winner selected by a consensus, according to the information provided on the nomination form. Church members may nominate more than one person. Nominations are accepted each year in February and awarded during a recognition celebration in March.
Areas of volunteer service may include but are not limited to: mission, worship, member care, Christian education, administration, and evangelism. Each year, the winner of the Augusta Jeffrey Memorial Award will designate an honor gift to the area of ministry in which the Church is engaged that they deem most worthy. A list of possible recipients of this memorial fund is provided to winners to choose from, but choices are not limited to the list.
2023 Augusta Jeffrey Nominations are being accepted beginning
February 1, 2023 and will conclude at the end of the month.
To complete the form online visit the Augusta Jeffrey Nomination Form.
If you'd rather complete a printed form and return it to the office before February 28, 2023 you can download the form here.
---
2022 Augusta Jeffrey Awardee
---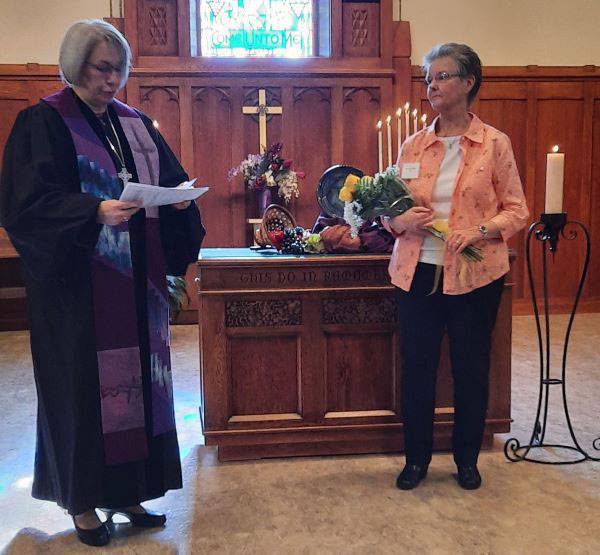 It was our pleasure to present the 2022 Augusta Jeffrey Award to Judy Knutzen-Nerad.
Judy has been a member of First Presbyterian Church GB since 1974 and during that time has served multiple terms as Deacon and is currently serving in that role today. She also now serves as an usher and plays a leadership role in organizing ushers for all services.
Always giving of her time and talent, Judy is an active committee member having served on the Christian Education Committee in the past, and currently serves on both the Funeral Committee and Worship Committee. For many years, you've received a newsletter because Judy helped in the office each month and when needed she also volunteers as a substitute for Leah.
The advent wreath we're blessed to use in worship each year since 1977 is entirely thanks to Judy who donated this in memory of her first husband, Paul. In 2021, the wreath as well as other Advent decorations in the sanctuary were updated by Judy and she also donated the Fellowship Room Christmas tree.
Each year the Augusta Jeffrey awardee designates the $600 award funds to an area of ministry in which the church is engaged and Judy has designated this year's funds towards sanctuary beautification, with the purchase of a few new banners in mind.
Judy was presented the 2022 Augusta Jeffrey Award during a recognition celebration on Sunday, March 27, 2022. As Covid prevented us from having a reception last year, we also celebrated 2021 awardees, Lisa Olson and Amy Wittman.
Congratulations and a big thank you to Judy!
---
Past recipients of the Augusta Jeffrey Recognition Award:
2022 – Judy Knutzen-Nerad
2021 – Amy Wittman & Lisa Olson
2020 – Jane Bies
2019 – Kirke & Beth Ryder
2018 – Katheen Ford
2017 – Ann Argall