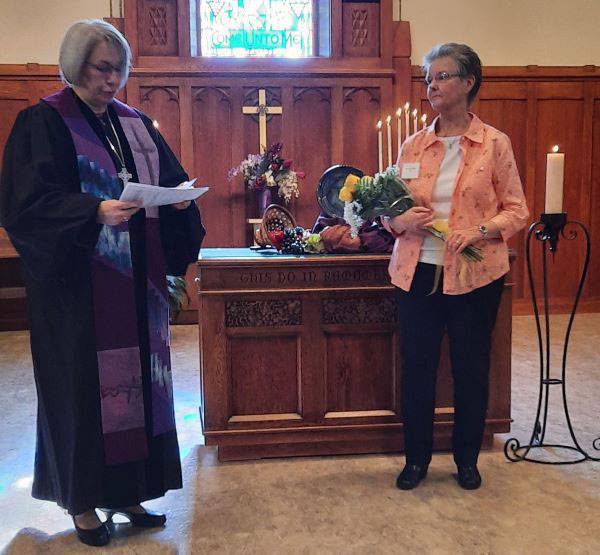 Congrats Judy!
It is our pleasure to present this year's well deserved Augusta Jeffrey Award to Judy Knutzen-Nerad.
Judy has been a member of First Presbyterian Church GB since 1974 and during that time has served multiple terms as Deacon and is currently serving in that role today. She also now serves as an usher and plays a leadership role in organizing ushers for all services.
Always giving of her time and talent, Judy is an active committee member having served on the CE Committee in the past, and currently serves on both the Funeral Committee and Worship Committee. For many years, you've received a newsletter because Judy helped in the office each month and when needed she also volunteers as a substitute for Leah.
The advent wreath we're blessed to use in worship each year since 1977 is entirely thanks to Judy who donated this in memory of her first husband, Paul. This past year in 2021, the wreath as well as other Advent decorations in the sanctuary were updated by Judy and she also donated the Fellowship Room Christmas tree.
Each year the Augusta Jeffrey awardee designates the $600 award funds to an area of ministry in which the church is engaged and Judy has designated this year's funds towards sanctuary beautification, with the purchase of a few new banners in mind.
Daughters, Kristin and Tammy, were in attendance at our recognition celebration on Sunday, March 27th when Judy received the 2022 Augusta Jeffrey Award. As Covid prevented us from having a reception last year, we also celebrated 2021 awardees, Lisa Olson and Amy Wittman.
We are very blessed to have Judy as a member of our church. The next time you see Judy, please take a minute to give her a big thanks for all the generosity she's shown our community of faith.