Worship Guidance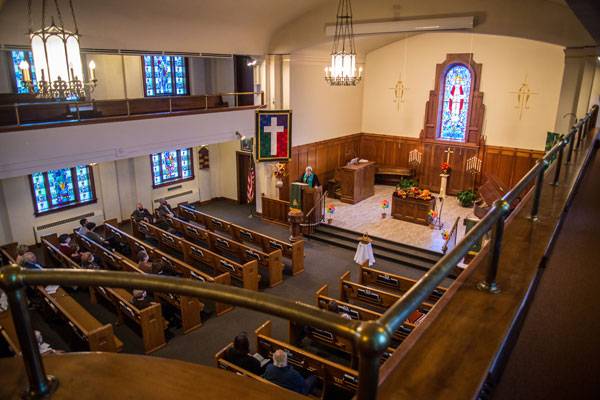 Spring 2023 update
Dear members and friends of First Presbyterian:
We're happy to report that since February of 2022 we've remained open for in-person worship. While in the church building you may wear a mask based on your personal preference, informed by your personal level of risk.
We also continue to offer virtual worship service via our Facebook Livestream for those who are not healthy or not yet comfortable coming in-person.
Along with re-opening the sanctuary, we also re-opened the nursery, and Confirmation as well as Sunday School classes resumed. Thanks to no further surges, the nursery has remained open, and classes have continued as scheduled.
Our Fellowship hour following worship service, with coffee and treats, was also resumed and has continued without interruption. The opportunity to visit with fellow members was long overdue and we're happy that this has continued and will continue well into the future as it once did in our pre-Covid days.
Join us in prayer that this new normal will continue to go in the direction of our former pre-Covid normal.
We look forward to seeing you in-person or virtually on Sundays at 10am, and as always please be careful and stay well.
SUNDAY MORNING WORSHIP SERVICES
The stained-glass window in the front of our sanctuary reminds us that Jesus invites everyone to participate in worship.
At First Presbyterian Church of Green Bay, in-person worship is an option every Sunday at 10am but for those who are not ready or able to attend in person, we are pleased to offer virtual worship through our Facebook Livestream. Thanks to the time and talents of several people in the congregation — and a big upgrade to our AV system in the sanctuary — this has been a continuing option since the onset of our Covid days.
You will notice reminders on Facebook of when services begin and prior to Sunday, you will also see our social media feature – Your Sunday Preview. Each week we will post the upcoming Sunday reading and a snapshot of the sermon focus and other special elements of the service. We encourage everyone to share our published posts with all your friends and family so we can welcome new members into our community of faith.
And, if you miss Sunday's livestream or want to share the service with friends and family later, visit our Facebook archive or our YouTube Library.
We look forward to seeing everyone at 10am Sundays, in-person or online!
SPECIAL WORSHIP SERVICES
Special seasons of the church year bring other opportunities for worship. We participate in a joint Thanksgiving service with nearby faith communities, and we offer a "Blue Christmas" service in December for those who may be grieving or especially sad or lonely at that time of year. Lent, the six weeks after Easter, brings opportunities for mid-week prayer services as well, and Holy Week also includes additional services for Maundy Thursday and Good Friday.
SUNDAY BULLETINS
Bulletins can be viewed onscreen
during Facebook Livestream worship