Invitation From Pastor Katie
I invite you to explore this website to learn more about us. You can also discover some of our excitement and energy from our Facebook page. Most importantly, I invite you to visit us on Sunday Morning so that you can personally experience the warmth and love of this amazing congregation.
As a missional Church, we are committed to reaching out to our neighborhood, community and world. You will find outreach activities here that will help you make a difference in the lives of others. We believe that God is at work in the world and God calls us to participate in this work. Our mission is to inspire you to live and serve with Christ!
We Presbyterians do not agree on every issue, but we do always honor and respect one another. Jesus Christ is the center who holds us all together.
If this missional and mature Christian perspective resonates with you, there is a place for you among us!
---
Our Office Staff
When you join the staff at First Presbyterian Church of Green Bay, you are becoming part of a mission-driven organization, one whose mission statement reads "Inspiring All to Love and Serve with Christ." Your ability to help us inspire our members and potential members, as well as the general public, is what we are looking for when we post an open position. If you are confident that you would be able to help provide that inspiration, we encourage you to apply for one of our current open positions.
Send us a message from this page (see below)
Call us at 920-437-8121
Or send mail to 200 S Ashland Ave, Green Bay, WI 54303-1604
Pastor Katie Estes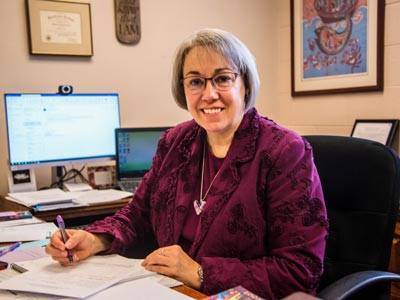 Reverend Katie Estes
Pastor
kestes@firstpresgreenbay.org
Katie began her ministry at FPC in November 2020, bringing more than thirty years of pastoral experience in five different churches. She has served in Houston TX, Tucson AZ, and the Twin Cities area of Minnesota in a variety of ministry roles, and is very pleased to make her home now in Green Bay with her two young adult children.
Katie is an avid reader, loves to watch her daughter perform in theater productions and her son play soccer, and also enjoys baking and travel.
Mary Belanger
Mary Belanger
Building and Grounds Supervisor
mbelanger@firstpresgreenbay.org
Mary has been the First Pres Building and Grounds Supervisor since 2002. In her role, she cleans and beautifies the church inside and outside, including the yardwork. She most enjoys the outside work during the beautiful Spring, Summer, and Fall months.
Mary enjoys riding her bicycle, playing with grandchildren and great-grandchildren, and staying fit through healthy eating and performing CrossFit. Mary is married, has four children, eight grandchildren, and two great-grandchildren.
Cheri Simonet
Cheri Simonet
Director of Communications & Marketing
communications@firstpresgreenbay.org
Cheri joined our staff as Director of Communications & Marketing in early 2021. In her role, Cheri is responsible for communications, public relations, e-business and multi-media along with digital and traditional marketing efforts. She particularly enjoys working on our monthly newsletter, email marketing and social media management on our Instagram and Facebook channels.
In her spare time, Cheri enjoys writing, gardening and spending time with her three daughters and grandson.
Leah Mott
Leah Mott
Administrative Assistant
office@firstpresgreenbay.org
Leah has worked as Administrative Assistant for the church since 2006. She is the cheery voice who answers the phone, the friendly face who greets those who stop by the office during the week, and the wizard who puts together the weekly worship bulletin. She has been a member of the congregation since her marriage in 1978 and knows almost everyone and almost everything! Her hobbies include gardening, reading, and playing Scrabble and Words With Friends.
Joel Morien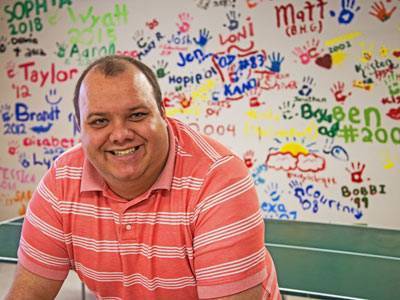 Joel Morien
Director of Children, Youth & Families
ce@firstpresgreenbay.org
Joel Morien joined our staff in October, 2021 and brings many years of experience with children and youth in camp, retreat and church settings. He is responsible for the ministries with children, youth and families including nursery, Sunday school, Confirmation class, Youth group, and more.
Joel and his wife, Brittany, live in Appleton with their daughters, Aubrey and Lydia.
Lori Middlemas
Lori Middlemas
Bookkeeper
finance@firstpresgreenbay.org
Lori Middlemas, joined our team in July, 2023 and will be doing accounting and bookkeeping in our finance department. Lori is not actually an employee of the church, but represents nVision with whom we have contracted. Lori brings us a wealth of experience with over thirty years working in the accounting industry. We're pleased to welcome Lori into our community of faith.
Employment Opportunities
For employment consideration, please submit your resume to kestes@firstpregreenbay.org