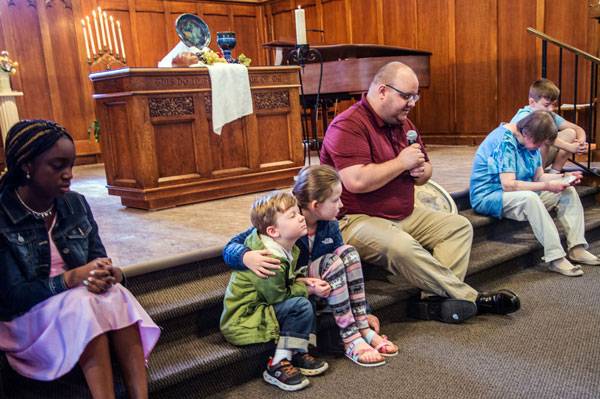 Christian Education for the children is reaching out to them as they are, to teach them the Bible and God's love, and to provide opportunities to develop, enrich and practice their faith. We achieve this through Sunday School, worship, and special activities.
Sunday school is in session from September to May, for Pre-Kindergarten through Fifth Grade. We use Bible stories from the Revised Common Lectionary, age-appropriate learning activities, and challenge our children to put their faith into action and grow in their self-understanding as Christians.
Each summer, children have the opportunity to attend Vacation Bible School. During four fun-filled evenings we walk through scripture, activities, crafts, songs, and games. Led by Director of Children, Youth and Families, Joel Morien, and members of our Christian Education Committee, Bible School is open to children aged 4 through those who have completed fifth grade. Older children and youth are welcome to participate as volunteers. For more, visit our Vacation Bible School page.
During the Christmas Eve 5:00 worship service, our children participate in our annual Christmas Pageant. Each year is a memorable performance of the story of the Nativity of Jesus. Children perform to a packed house of in-person and online worshipers.
And, in the Presbyterian tradition, we gather parents and students in second and third grade for communion preparation. We study scripture, bake bread from scratch make tablecloths for the communion table and enjoy some special activities. On the following Communion Sunday, the children participate in communion with their church family.
If your second or third grade student would like to participate in a communion workshop, please contact Pastor Katie at kestes@firstpresgreenbay.org.