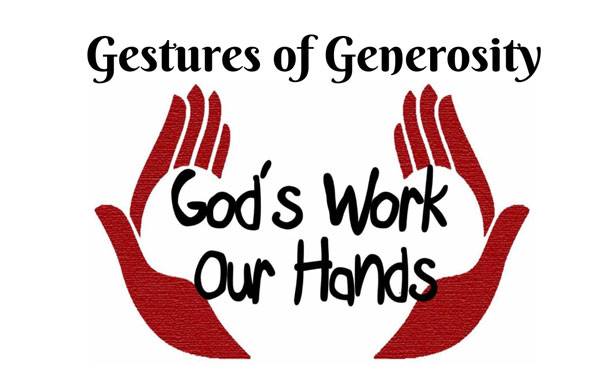 Thank you for your Gesture!
One of the greatest gestures of generosity that any one person can give is the gift of themselves in the service of others. Judy Knutsen-Nerad is that person filled with Gestures of Generosity. She is selfless in the time, energy and effort she brings to our office whenever the need arises.
In early December, Leah took ill for more than a week and without hesitation, Judy quickly stepped in to fill the void. Whether it be answering the phone, receiving visitors, putting together the bulletin or working on the newsletter, throughout the year Judy doesn't hesitate in the least to help when called and always with heartwarming smiles. Judy's positive energy never falters and we're all so thankful for how she gives so generously of her time and talent. THANK YOU, Judy, for your ongoing Gestures of Generosity!
Merry Christmas from Red Lobster! by Stephanie Fahringer
Meet James… James is Manager of Red Lobster on Lombardi Ave. Red Lobster donates frozen potatoes & Red Lobster biscuits for our pantry on a weekly basis.

For this Christmas season James & his entire crew donated nearly $600.00 of toys for our Toy Shop with a huge resounding MERRY CHRISTMAS from our Red Lobster crew!!

I am overwhelmed by the kindness & generosity displayed. James delivered them to our church & made sure I saw the guitar that he picked out!
A huge THANK YOU to all of your crew & may you all have a BLESSED & BEAUTIFUL CHRISTMAS! AMEN
Socks of Love receives some unsolicited Love
A new element of our annual Advent Workshop was a service project called "Socks of Love." We collected donations of travel-sized toiletries and other items that might benefit people experiencing homelessness in our community, then stuffed them into a pair of warm wool socks. Thanks to all who contributed to filling these socks of love. An extremely generous financial contribution came in through our online giving portal to support this project as well, so we'll be making more Socks of Love soon—thank you to our secret supporter!
We'd love to include your story in one of our upcoming Gestures of Generosity newsletter columns.
If you have a Gestures of Generosity story to share, please contact Cheri at communications@firstpresgreenbay.org.