We are so proud of our Class of 2022 high school graduates – Evan Hansen and Morgan Siewert! CONGRATULATIONS! As they take their next steps in life's post-high school journey, we are there as a community to support them. They'll be sadly missed in our youth group gatherings, but we look forward to seeing them grow in their faith as young adults. Evan and Morgan's graduation story and plans for their future are as unique as they are special.
Evan graduated on June 12th from Bay Port High School. Evan's immediate plans are pursuing a career with Seura Outdoor TV's as a technical engineer while also planning to take few classes at NWTC. We wish you all the best in your new career, Evan!
Morgan graduated on June 5th from Green Bay Southwest High School. She plans to continue her education at St. Norbert College where she'll double major in biomedical sciences and psychology. Megan has received the Presidential Scholarship awarded by St. Norbert College. She'll miss participating in Student Council during high school years along with her favorite high school memory of homecoming football games, but she looks forward to creating new memories during her college years. Congratulations, Morgan!
Thank you to all who joined us on graduation Sunday, June 19th when we celebrated Evan and Morgan's educational accomplishments during worship with a special reception that followed.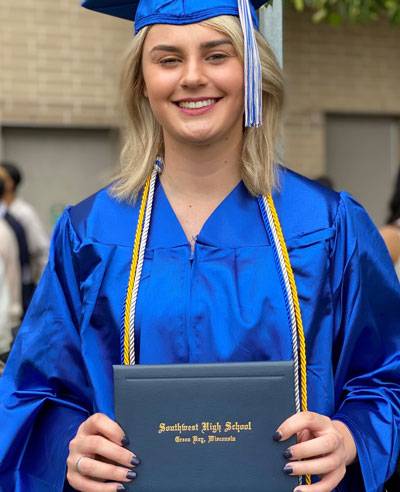 We also extend congratulations to our college graduates:
• Julia Doenges, daughter of Georjeanna and Vern Doenges, who graduated summa cum laude from the University of Wisconsin-Green Bay with a degree in Communications with emphases in Health Communication and Organizational Communication.
• Olivia Crooks, daughter of Lori and Hank Crooks, who graduated from Concordia University, Mequon with a BS degree in Communication Sciences & Disorders.
• Taylor Wittman, daughter of Amy and Scott Wittman, who graduated from Carroll College in Waukesha with a Bachelor's degree in Public Health.
• Emma Smith, daughter of Ellen and Al Smith, who graduated from Mt. Mary University in Milwaukee with a Master of Science in Counseling.
• Kerri Gouldkristine, daughter of Sarah Gouldkristine, who graduated from UW Stout with a BA Degree in Advanced Logics.
Blessings to one and all as you move forward in your post-graduate journey!