October 2nd through October 5th
Are you ready to have some fun, and make a difference at the same time?
Then plan to volunteer for the 2023 Feed My Starving Children MobilePack event in Green Bay!
The MobilePack will be held Monday, October 2nd through Thursday, October 5th. This year's event will continue to be held at Green Bay Community Church, and is open to everyone – young and old alike.
There are 8 different packing shifts to volunteer and we have reservations for our congregation on the 6 shifts which are indicated below.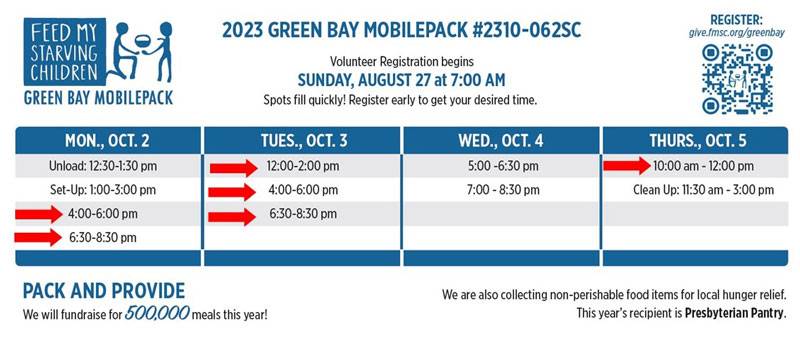 Registration opened Sunday, August 27th. The FMSC registration sign up sheet can be found in the office during the week and in the back of the sanctuary on Sunday or Register Online. Spots fill quickly! Register early to get your desired time.
If you're unable to register online or visit church to register in person, please contact us at office@firstpresgreenbay.org or call (920) 437-8121 with the day and time you'd like to sign up for and we'll take care of the registration for you.
If you haven't packed or volunteered before, this is the year to see what all the excitement is about. Please consider helping in this great cause. For more information or questions, please contact Kirke Ryder at kirke.ryder@gmail.com.
And, please prayerfully consider a donation to FMSC through our church. Simply select FMSC in the drop down menu in Give Now section of our website or note FMSC on your check.
For every person packing we're hoping to receive a $60 donation.
Please help us reach our goal of $60/packer.
Why are we looking for a $60 donation for every packer from our congregation?
To pack a half million meals (500,000) we have to raise $145,000 because every meal we pack is at the cost of 29 cents each. If everyone who came to pack had someone donate $60 on their behalf, we'd cover the cost of the food purchased that a volunteer is going to pack. Without that donation we rely 100% on fundraisers and despite the number of fundraisers we have, there's always a shortfall to cover the cost of the food that we're packing. Please consider sponsoring one of our First Presbyterian volunteer packers and donate $60 to cover the cost for what they'll be packing.
Thank you for your support!